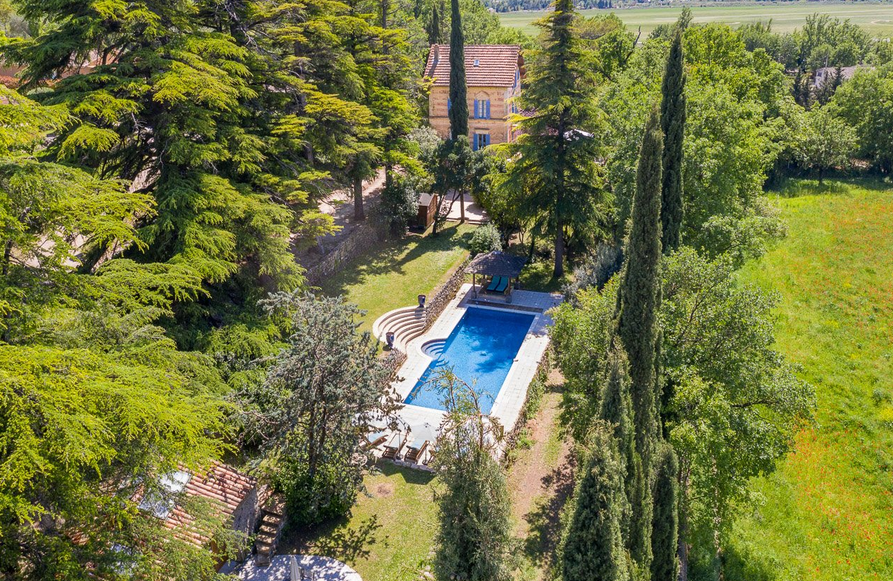 Villa Cambaras breathes history. It is a romantic, charmingly restored hunting lodge (petit Chateau) from Provence-Alpes-Cote d'Azur's Italian period (early 1800's). Voluptuous, full of surprises, beauty and romance.
Villa Cambaras was built by Italian patricians as a hunting lodge – hence for entertainment purposes long before the words 'holiday' or 'weekend' had been invented. The villa is near to everything Provence has to offer and with the Riviera on your door steps .
We, a Irish-Swedish family, fell for the charm, warmth and style of this property as it was not your average Provencal farm house or predicable bungalow by a long shot.
We dare say that Villa Cambaras is one of the more unique properties in this part of Provence Alpes Cote d'Azur.
The main building has Italian frescoes in the cealing, furnished with antique and modern furniture – 'stylish yet not austentatious', one visitor remarked. The renovated old stone stable in the garden was most recently used by a British artist.
The property is surrounded by vineyards, hilltop villages, first class golf courses like the world renouned Terre Blanche – 10 min to a lake, less than half an hour to the wonderful Theoule sur mer sandy beach – and 35 min to the nearest ski slope.
The driveway is lined with 2-300 year old Lebanese Cedar trees and there is a 15 meter swimming pool perfect for daily swimming exercises. The property has park like dimensions and has an excellent view on to Fayence and Tourrettes castle – with lovely restaurants (some with Michelin mention), bars and fete's in walking distance.
Then you can do gliding, paragliding, horse riding, fishing, wind surfing, pedallo's, trekking, hilltop cycling, etc, only minutes away.
You have easy access to both the mountains, the vineyards and the Riviera. A definite experience.
Brief facts:
5 bedrooms, sleeps 10 adults och 12 in total.
Large 15 x 5 metres exercise pool.
Modern kitchen with a generously sized Godin gas stove.
4 bathrooms.
xxxxxxxxx